Special Events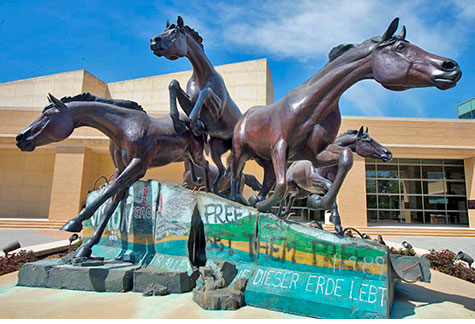 "The Day the Wall Came Down," a Veryl Goodnight sculpture at the George H.W. Bush Library Center, a venue on the PLPR Conference agenda.


During the 2019 PLPR Conference the abstract work of Sydney Yeager, a prominent painter from Austin, Texas, will be on exhibit.
Monday, 18 February
6 p.m. — Ph.D. Workshop participants (faculty and students) gather at Mo's Irish Pub.
Tuesday, 19 February
10 a.m. – 4 p.m. — Interested conference participants take a half-day bus tour of cultural designations in College Station. Stops include the George H.W. Bush Presidential Library Center and a walking tour of historic buildings on the Texas A&M campus led by Professor Emeritus David Woodcock.
6 p.m.— Jorge Vanegas, dean of the Texas A&M College of Architecture, welcomes PLPR conference participants at a reception in the Wright Gallery, located on the second floor of the Langford Architecture Center's Building A (ARCA).
Wednesday, 20 February
Thursday, 21 February
Participating guests will be transported from The George Hotel and Cavalry Court Hotel to Messina Hof Winery.